If you want to use the internet, you probably need an email address to access many services through the web.
Without a doubt, Gmail is the best free email provider for more than a decade and it offers many useful features without cost.
However, there are some alternative services that provide additional features for its users.
For example, features like no restrictions on file attachments, secure email service, disappearing emails, etc.
In this post, we've compiled a list of the best Gmail alternatives to send and receive emails.
If you have used Windows or any other Microsoft products, you might notice about Outlook. Microsoft introduced Outlook email service as integration with Microsoft's office suite apps such as Word, Excel, PowerPoint, OneNote, and more. Similar to Gmail, Outlook provides 15GB of free cloud storage. It comes with some additional services like custom domains, scanning malicious attachments, and more.
Do you give more importance to email privacy? Mailfence is a good choice for you. When it comes to the best Gmail alternative, Mailfence doesn't meet in many areas. But, if you are looking for no ads and secure email services, this might be the right one. It gives you just 500MB of storage space so free storage is the biggest disappointment for many users.
Also Read: 20 Best Email Hosting Providers Review
Are you seeking an encrypted email provider? You have to try Tutanota. It claims 'the world's most secure email service'. Tutanota is open source application and is available for iOS, Android & desktops apps for Linux, Windows, macOS. So, you can send and receive emails wherever you are. It offers 1GB of free space that will not enough to store emails with large file attachments.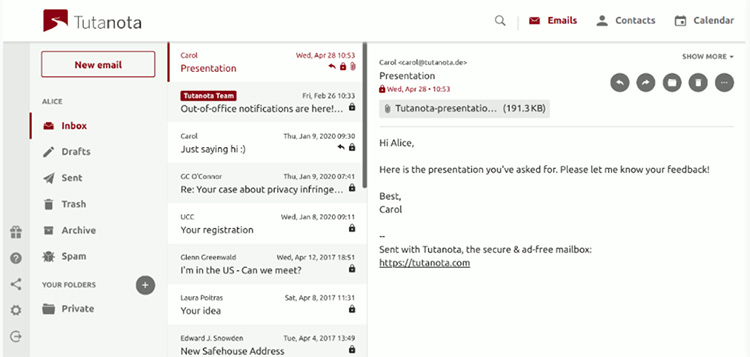 GMX Mail is one of the best alternatives to Gmail and is widely used by email apps. You can use filters to stop spam. If you are looking for an unlimited free storage email to store your files, GMX Mail offers the best service for you. It ensures that your email and your data are safe at all times with powerful antivirus software and spam filters.
ProtonMail is another privacy protection email service provider. Encryption ensures that your data belongs to you. ProtonMail offers an anonymous email gateway that helps you send personal and professional emails without hassle. It comes with a free and pro version, the basic package provides 1GB storage.
Zoho Mail is a well-known email service among small business owners. When you are running a business or offering freelancer service, it is a good one to integrate services such as a calendar, a task manager, instant messenger, and more. You can host your business email on a secure, encrypted, privacy-guaranteed, and ad-free email service.
Another professional-looking email provider Newton Mail comes with additional features. Newton is not a free service, you have to pay $49.99, but you can try 14 days free trial.
You can easily set up and use Hushmail which protects you and your clients by adding encryption to your emails. So, data is protected from strangers, advertising agencies, and spam.
Do you want to create fake email addresses instead of giving out your real address? MailDrop provides an option for creating fake email addresses to get rid of spam or if you want to subscribe to a forum or website that is not entirely reliable.
This well-known email service is used by many as an alternative to Gmail and Hotmail. Mail.com also offers free unlimited storage. If you want to send large email attachments, Mail.com is the best place to send attachment files up to 100 MB. With free service, you can send attachments of up to 30 MB. The premium plan allows sending attach large files of up to 100 MB to an email.
Also Read: Why is Email Marketing Good for Small Businesses?